Mount Rainier Senior

High School




Class Of 1964

The Mt Rainier High School Class of 1964 50th Reunion--August 1st thru 3rd, 2014
Nobody wanted it to end. The food was amazing, the libations kept flowing, and we were having too much fun. Laughing with friends--some of whom we hadn't seen for 50 years! Re-calling pranks where we almost got caught--or did. Oh, the stories! Craig Martinson and Mike Williams had the entire ballroom gasping about things gone wrong--okay, really shitty for Mike. We laughed until we cried. And cried until we laughed. The years pealed away as we saw inside each other the little kid whom we had grown up with oh those many years ago. It was magic. It was fun! It was loud! The 14 CD's I made up for background music Friday night? I think about half of the first song could be heard before the roar of our riotous conversations drowned it out entirely. On Saturday, Paul Totten still had the moves as Bruce Robertson's band was rocking it out. Yeah, we're a noisy bunch. Lee Gagnon Whipple's daughter attended and texted her friend that "for folks their age, they are really loud!" We were having a blast!
If you were one of those who just couldn't make it, I am really sorry you missed it. But you can still share in the experience by ordering a DVD of the event for $33. If you do not receive a letter from Raines Video, the same folks who did our 40th, call Richard at 800-654-8277. Even those who attended will want a copy--to experience the reunion through other eyes, catch up with folks you weren't sitting near, and just to re-live a very special weekend.
Was it our best reunion yet? Lots of people have said so, in person and via email. People came who we hadn't seen in years. For some, it was their first reunion ever. Even the spouses had a blast. They discovered what we've felt all along. We have a very special class. Everyone is just so friendly. And we still have the hottest babes in South Puget Sound.
All in all, over 187 classmates and guests attended, including 152 Friday night, 167 Saturday night, and over 80 for Sunday brunch. Even after re-paying our $1300 seed money from the 40th, and hosting this website for another 10 years, we'll end up with a surplus of $3800 -- $3400 of which came from Jayne Salvadore Schlosser's silent auction. Thanks to all our generous bidders and donors--including that beautiful hand carved mask from Perry Eaton purchased by Jim Sloan.
Our next reunion will be our 55th in 2019. All 19 of our volunteers who attended the debrief meeting on Tuesday August 12th (and some who didn't), have agreed to repeat in their current capacity--Don and Donna Morgan, Doug Sanford and Marcy Dreyer, Craig and Shannon Mortinson, Tom and Elaine DeZutter, Karl Myrhe and Sherilynn Carroll, George Breeden, Polly Kaiser Heinselman, Paul Kaiser, Liana Linder Nordell Wiik, Jayne Salvatore Schlosser, Leslie Harris Walters, Diane Ridge Boyd, Vicki Langbehn Ack, Linda Cox Diaz, Phyllis Skau Savini, Sue Kinney Weaver, Toni Alquist Meneses, and Susan Bohn Angel. And thanks to Cindy Bain Hix and Jerry Childs for helping out with the roving mic. Thank you each and every one. You are the best team ever! Lots of you are talking about doing something smaller on an annual basis. And hopefully someone will step forward to be our Treasurer so I can dedicate more time to event production.
We heard only two complaints. One, the band was too loud. Two, there wasn't as much opportunity to mingle on Saturday as there was on Friday. We're working on this and will be polling you all about it soon.
If you'd like to get a bit more involved, and have a little more fun, our next planning meeting will be at the DoubleTree near the end of November. Keep checking in on this website -- for more particulars, to check on your friends, and to keep your Profile current. Or call or email me if you have any questions or suggestions.
Jim Cissell 206-933-8642 jim@voiceguy.com
P.S. Check out the new 50th Reunion Photos page for pics from the events. And feel free to post photos yourself. Or contact Polly to find out how.
See you at the 55th!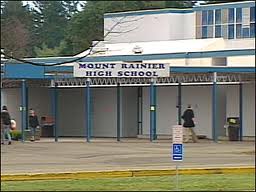 REGISTER FOR REUNION BY CLICKING ON "50 YEAR REUNION" TAB ON LEFT